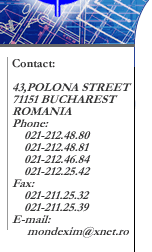 Titlu

Welcome to Mondexim home page !
We are glad you visit our web site!

Founded in 1987 under the former name of "ICE CARPATI", changed the name and the structure in 1990 into Mondexim and become one of the most reliable and representative Romanian traders.

We are a middle size commercial society, dealing like a prime export agent for the most of the Romanian steel mills, chemical plants, textiles producers (knit wears) and middle size wooden furniture suppliers(including wodden knitting and wicker items).The trading activity is achievable either on commission basis, on own behalf or in lohn, particularly for each type of deal.